Fat biking is an incredible way to experience cycling and nature in a completely new way. The large tires provide incredible traction and stability on various terrains, whether it's snowy trails, sandy beaches, or root-covered forests. Fat biking allows you to challenge yourself with new adventures, discover beautiful landscapes, and even take a day trip on the Hietasaari nature trails, for example. Additionally, it offers the opportunity to stay active and enjoy nature in different seasons.
Whether you're a beginner or an experienced cyclist, fat biking brings a smile to your face and a sense of freedom that's a great reminder of why outdoor activities are so wonderful. Come and rent a fat bike to experience cycling in a new way. Reserve your own adventure and step onto the path that takes you closer to nature and the joy of physical activity. If you want to join a group safari, that's possible too!
Fat bikes for year-round use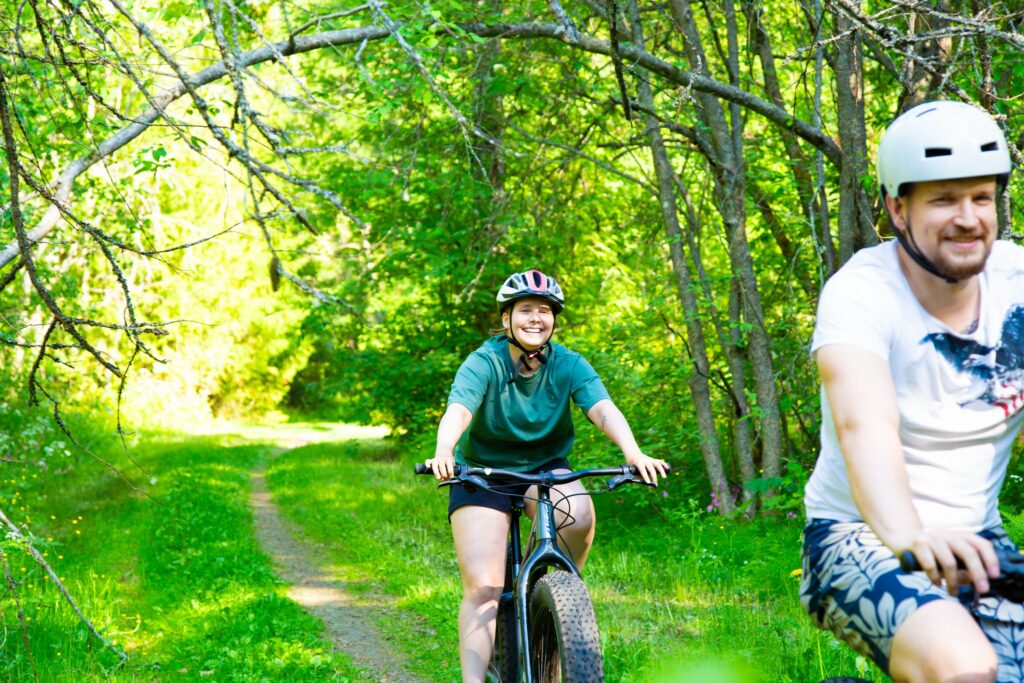 Fat bikes have proven to be an excellent choice for year-round cycling for many reasons. These sturdy bikes with wide tires offer versatility and performance in various weather conditions and terrains. First of all, the large tires of fat bikes ensure excellent grip and stability on different surfaces. This makes them ideal choices for both snowy roads and wet terrains. Wide tires distribute weight evenly, reducing the risk of sinking in soft surfaces while providing a stable riding experience.
The suspension system on fat bikes helps smooth out the ride and dampen shocks on uneven trails. This enhances cycling comfort and control throughout the year, whether you're on icy roads, root-covered paths, or city streets. Durable frames make fat bikes reliable partners for year-round use. They are designed to withstand varying weather conditions and challenging routes. This makes fat bikes weather-resistant and long-lasting choices that inspire confidence in cycling every day of the year.
Fat bikes are not limited to winter cycling; they are also great for summer off-road biking. Wide tires help you navigate sand, mud, and challenging terrain, offering fun and challenging riding experiences even in the warmer months. So, fat bikes are an excellent choice for year-round cycling for those who want to enjoy cycling in different weather conditions and challenging terrains. Wide tires, suspension systems, and durable frames make fat bikes versatile and reliable companions for year-round adventures.
Rent a fat bike
As an adventurer, you know that the best way to explore new places is to embark on an adventure with an open mind. We offer fat bike rental services, so you can easily participate in this fantastic adventure without a significant investment. You can rent a fat bike for a day or more and explore the surrounding area at your own pace. If you want to make your vacation truly special, consider fat biking as part of your trip. It not only offers you unique scenery and physical activity but also the opportunity to experience your travel destination in a new, adrenaline-filled way. Bring your bike helmet and get ready to create memories you'll never forget. Reserve your fat bike today.
Frequently asked questions about fat bike rentals
Why should I rent a fat bike?
While on vacation, the goal is always to do something special and unforgettable. So why miss the opportunity to try something new and exciting? Renting a fat bike during your vacation could be the decisive factor that makes your trip an unforgettable adventure.
A fat bike allows you to explore the surrounding nature and landscapes in a completely new way. You can focus on enjoying the scenery and the freedom of movement.
How much does it cost to rent a fat bike?
Fat bike rental prices are as follows
25 euros – two hours
30 euros – three hours
35 euros – five hours
40 euros – seven hours
The rental price includes the fat bike and a helmet. If you want to rent a fat bike for several days, please contact us at +358 20 731 0110 or email info@finnaction.fi.
How long can I rent a fat bike for?
Most often, rental periods are for a few hours, but we also offer longer booking times.
Do I need to take care of the bike's maintenance?
We take care of regular maintenance and upkeep of the bikes on your behalf. If you notice any issues with the bikes, please contact us as soon as possible.
Can I use my rental fat bike off-road?
You can explore nature and try different trails, even in challenging terrains. Renting a fat bike is a great way to get to know this popular bike type before getting your own. However, always remember to follow safety guidelines and take proper care of the bike to fully enjoy the thrill of riding.
Frequently asked questions about fat bike tours
What is the length and durations of a fat bike tour?
The length and duration of bike tours vary from one tour to another. Tours typically range from approximately 8 to 15 kilometers in length and last around 2 to 3 hours. These tours are recommended for participants aged 12 and older.
What do guided fat bike tours include?
Guided fat bike tours typically include a fat bike, a helmet, and professional guidance.
What should I pack for a fatbike tour?
The essential items to pack for a bike ride include comfortable weather-appropriate cycling clothing, sunscreen, a water bottle, sunglasses, and personal necessities.
Where can I find the most suitable tour for me?
You can find a comprehensive selection of tours at Nallikari website. In addition to the regular public weekly departures, private tours are organized and tailored on a weekly basis.
For more information about the tour options, you can contact Finnaction by phone at +358 20 731 0110 or via email at info@finnaction.fi.