Oulu is a city where the list of activities is endless. Its unique location offers versatile opportunities for year-round experiences. During the summer, you can enjoy the magnificent Nallikari sandy beach, go canoeing, or take a cycling trip in stunning landscapes. In winter, Oulu invites you to snowy adventures. You can go snowshoeing in the forest or ice fishing on the sea ice. In this article, we will explore what you can do in Oulu.
Summer Offers Diverse Activities in Oulu – Summer By the Sea
Oulu is a wonderful city in the summer. Spend a memorable summer week with Summer By the Sea activities and discover new ways to enjoy Oulu's beautiful nature and waterways. The surroundings of Oulu offer stunning nature, allowing for various activities such as camping and swimming.
1. Enjoy the Stunning Beach Views at Nallikari in Oulu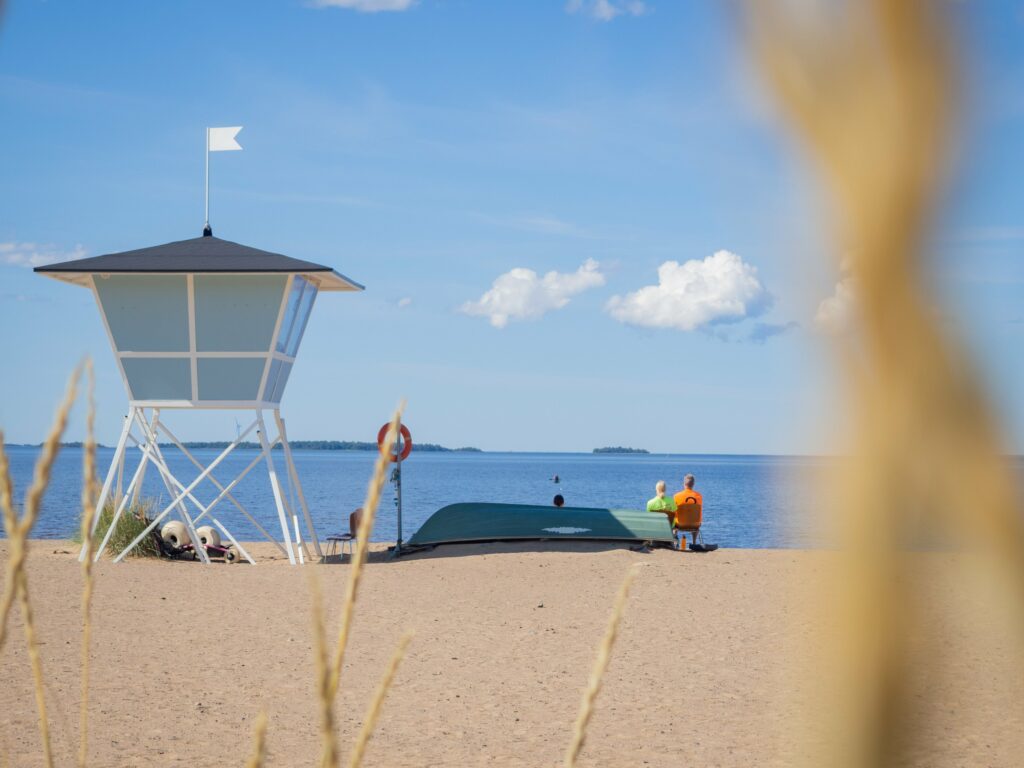 Nallikari beach is one of the most popular swimming spots in Oulu, and for good reason. Its beauty and natural surroundings attract visitors throughout the year. The sandy beach is located by the sea and offers breathtaking views of the open sea. The fine sand and fresh water create ideal conditions for swimming and sunbathing. The beach provides a safe swimming environment as the beach is very shallow and the water is clear.
Nallikari beach also offers various activities. You can find a beach volleyball courts and a playground for children. In addition to the activities, there is a restaurant that serves delicious food and drinks year-round. Nallikari offers beautiful scenery and a wide range of activities that attract people to enjoy summer days at the beach.
The beach is located a few kilometers from the center of Oulu, and it is very easy to reach by public transportation, walking, or by car. There are also parking spaces available, making access to the beach effortless. Read more about Nallikari beach.
2. Canoeing and Stand-up Paddleboarding (SUP) – Fun Activities to experience in Oulu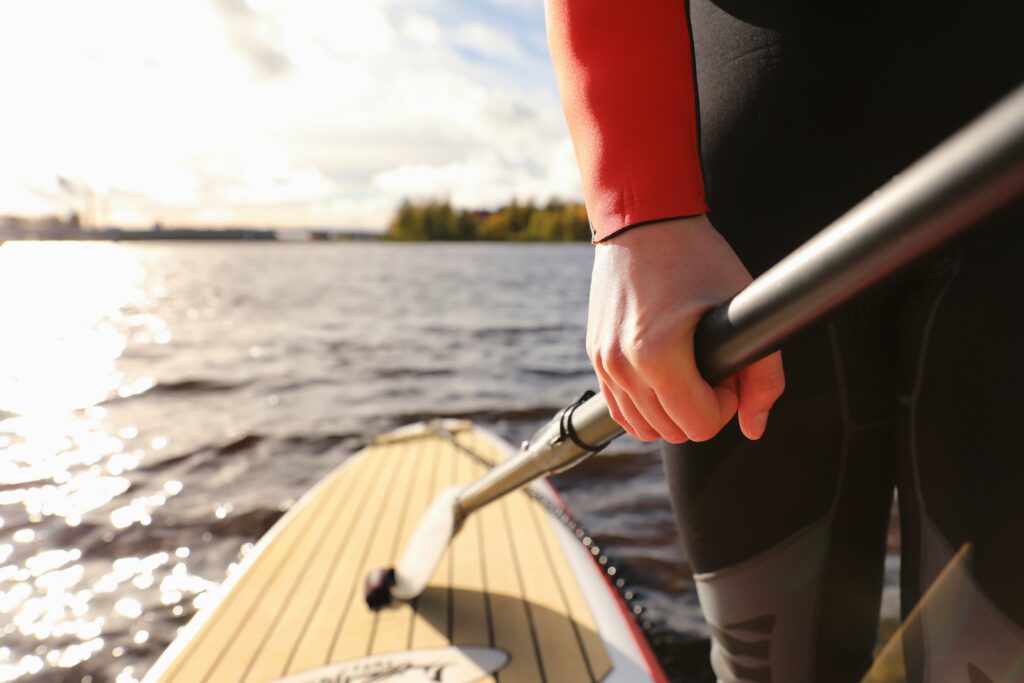 Canoeing and stand-up paddleboarding (SUP) are excellent summer activities that bring joy and opportunities for outdoor exploration and exercise. Nallikari provides excellent opportunities for canoeing and SUP for both beginners and experienced water enthusiasts.
Canoeing and SUP are suitable for people of all ages and fitness levels, offering balance and body control-enhancing exercises. The waters in Oulu provide a peaceful and relaxing environment for canoeing and SUP. These activities allow you to experience the tranquility and serenity of nature while getting some exercise.
If you haven't tried canoeing and SUP yet, this summer is a great opportunity. You can rent canoeing and/or SUP equipment and embark on an unforgettable adventure in Oulu's waters.
3. Experience a Nature-Filled Night in Oulu and Plan a Camping Trip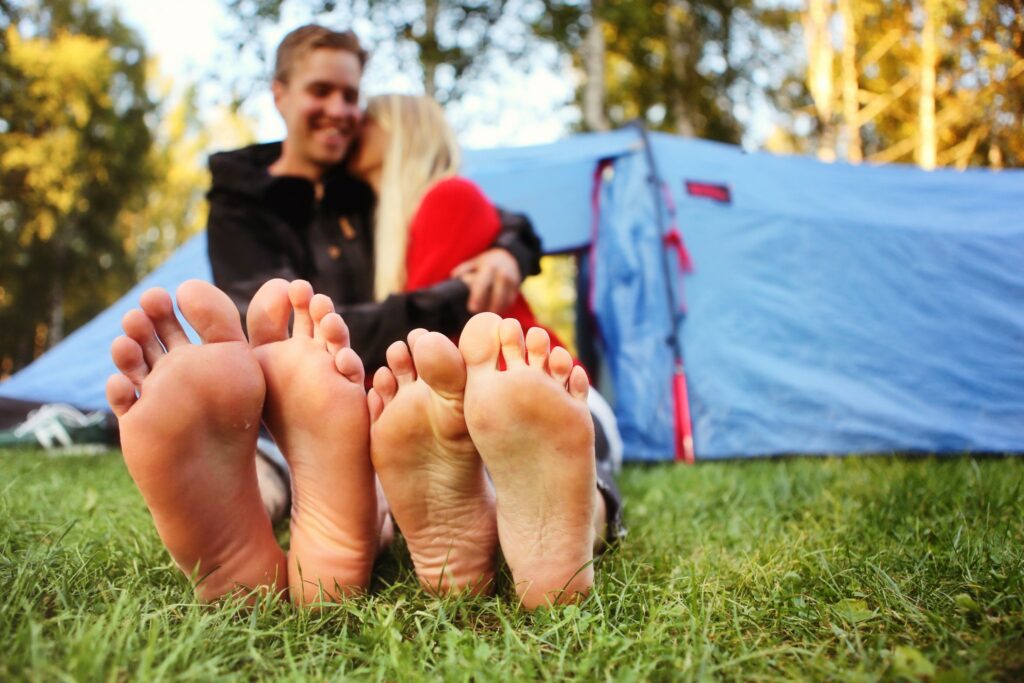 Camping at Nallikari campsite offers a fantastic opportunity to experience a nature-filled and adventurous night on the beautiful shores of Oulu. Camping in Oulu is a popular summer activity that attracts both locals and tourists. At Nallikari Holiday Village, you can enjoy camping in well-maintained areas where you can choose your desired spot and set up your tent. The area also provides toilet facilities, showers, and a sauna, making camping more comfortable and convenient. Additionally, there are dining options, such as grill areas, where you can prepare your own meals.
Camping at Nallikari is a luxurious experience as you can simultaneously enjoy the beautiful sandy beach, swim in the sea, and relax in the sunbathing area. This unique camping trip offers an unforgettable experience of nature, beach life, and a sense of community in summery Oulu.
Plan an adventurous camping trip to Nallikari in Oulu and book your camping spot today. Experience a nature-filled accommodation and enjoy the summer while camping in Oulu.
4. Have Fun at Vauhtipuisto with the Whole Family – Exciting Adventure in Oulu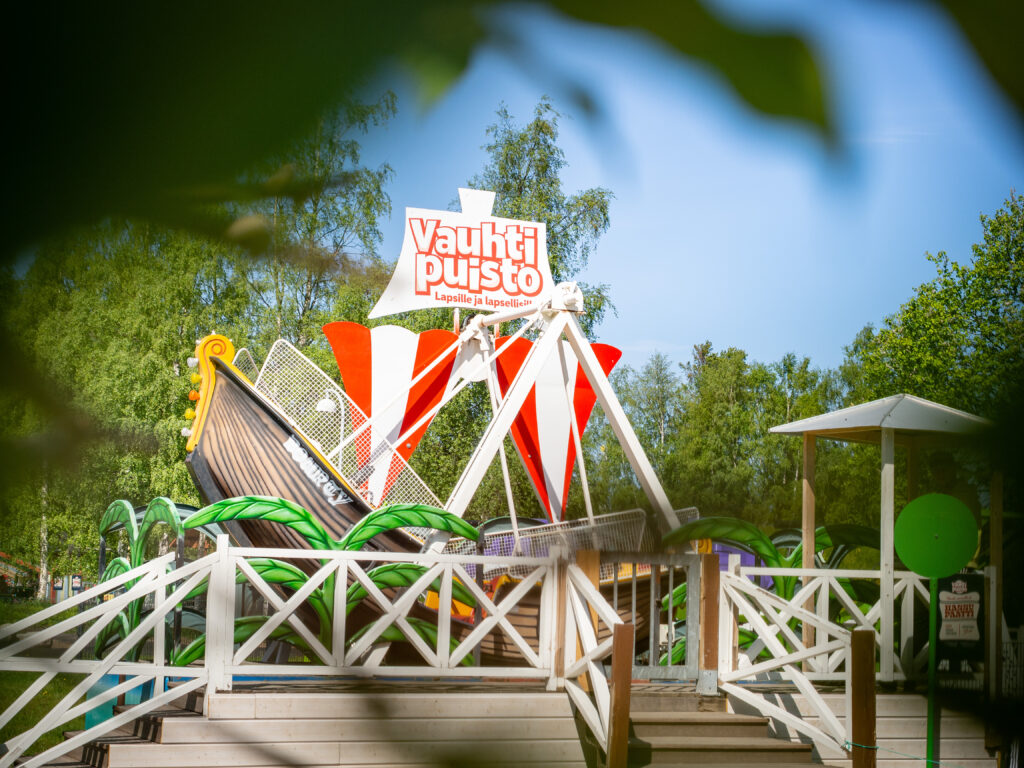 Vauhtipuisto, located in Nallikari, is a popular destination for families and the young at heart. The area features various rides and activities, such as roller coasters and playgrounds. Children can enjoy thrilling rides and exciting experiences in a safe environment. The PotnaPekka city train runs between Vauhtipuisto and the city center, adding to the experience. Nallikari's Vauhtipuisto is the perfect place to spend a fun day with the family and create memorable moments of enjoyment in Oulu.
Plan an unforgettable adventure to Nallikari's Vauhtipuisto and explore the diverse offerings in the area. Spend an exciting day with your family in Oulu and visit Vauhtipuisto.
Winter Adventures in Oulu – Discover Activities and Enchanting Nature
Winter By The Sea offers incredible experiences in the winter nature. Oulu is located in Northern Finland, where winters are often snowy, creating ideal conditions for various winter activities.
5. Northern Lights Spotting in Oulu – Enchanting Moments at Nallikari Beach and the Nallikari Lighthouse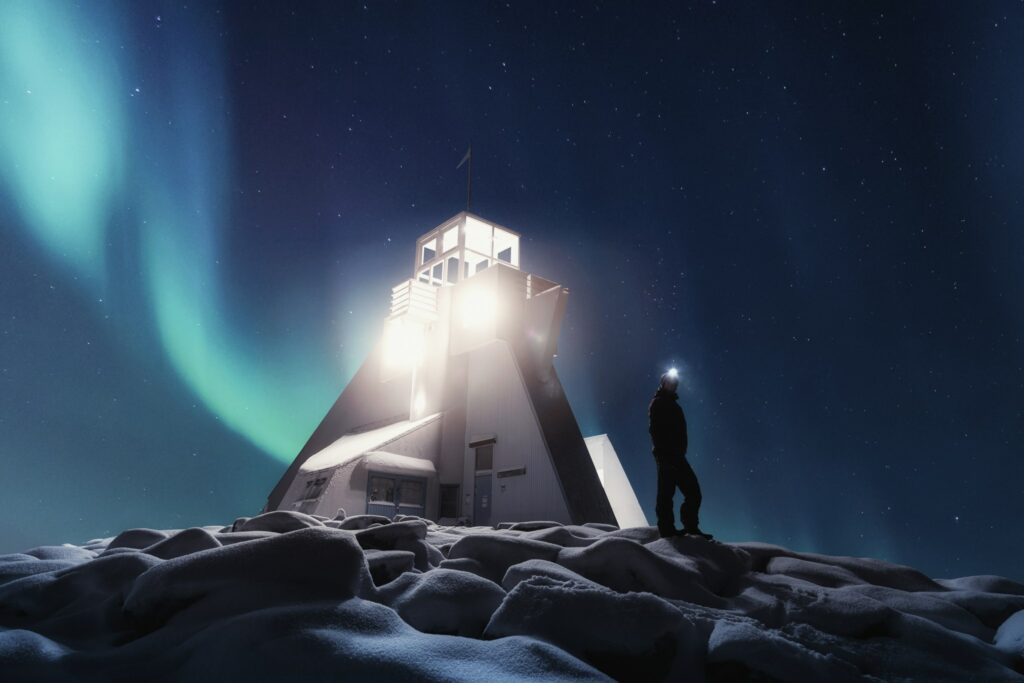 Spotting the Northern Lights is a memorable and enchanting experience you can have in Oulu. Nallikari beach and the Nallikari Lighthouse provide excellent spots for Northern Lights observation.
Nallikari beach offers magnificent views of the dark sky, creating ideal conditions for observing the Northern Lights. On a dark and clear night, you can comfortably settle on the beach, wrapped in warm clothes, with a hot drink in hand. On a clear night, you can eagerly await the dancing Northern Lights in the peaceful surroundings of the beach.
If you want an even better view of the Northern Lights, you can head to the Nallikari Lighthouse. From the observation tower, you can enjoy a panoramic view of the city and the surrounding nature. Nallikari Lighthouse provides an elevated location that offers unobstructed views of the sky, allowing for the best possible conditions for observing the Northern Lights.
Try Northern Lights spotting in Oulu and be enchanted by the magical dance of the auroras in the winter night.
6. Winter Delights on the Sea – Ice Fishing and Fatbike Riding on the sea ice of Oulu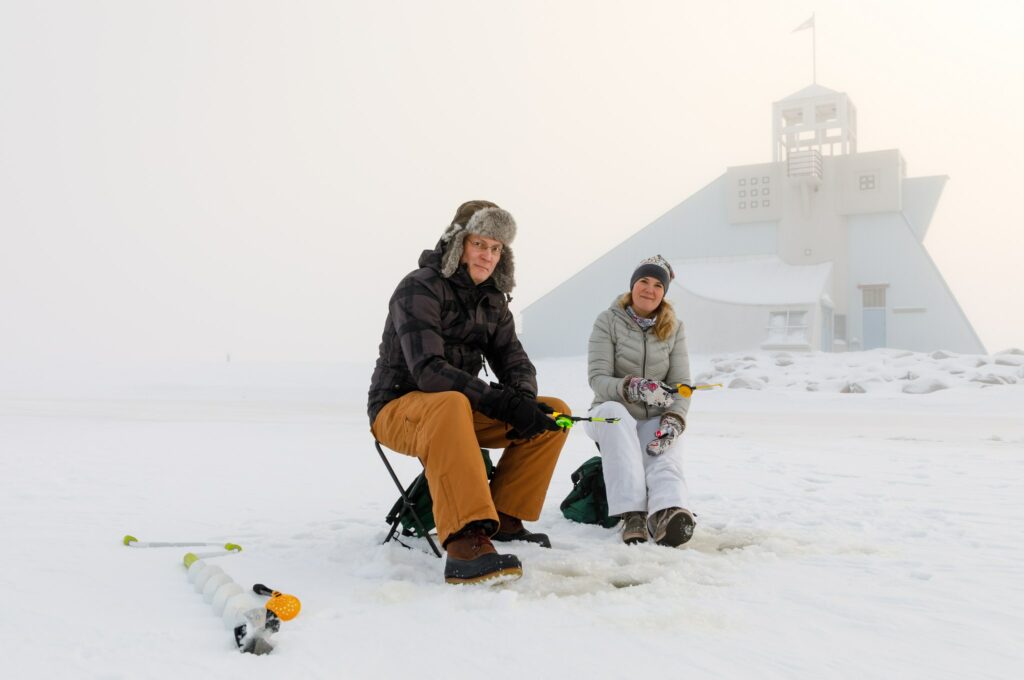 Oulu's frozen sea provides a stunning environment for winter activities such as ice fishing and fatbike riding. Try these unique experiences and fully enjoy the winter by the sea.
Ice fishing is a popular winter hobby in Oulu. You can choose a suitable spot on the sea ice, drill a hole, and lower your fishing rod into the water. While ice fishing, you can relax amidst the beautiful winter scenery and eagerly wait for a fish to bite. In the maritime environment of Oulu, you can catch various fish species such as perch, pike, and whitefish. Ice fishing offers a tranquil and meditative moment in nature, as well as the chance to enjoy freshly caught fish.
Another popular winter activity is fatbike riding on the frozen sea. Fatbikes are equipped with extra-wide tires that provide good traction and stability on the ice. While biking on the ice, you can experience a sense of freedom and enjoy the breathtaking views as you move across the frozen sea. Fatbike riding is also a great way to stay active during winter and enjoy outdoor activities in the midst of nature.
Make the most of the winter and try ice fishing and fatbike riding on the sea ice in Oulu. These activities offer unforgettable experiences. You can find ice fishing and fatbike riding equipment at Nallikari. Also, explore the guided tour options and make a reservation.
7. Fun in the Winter Wonderland – Winter Village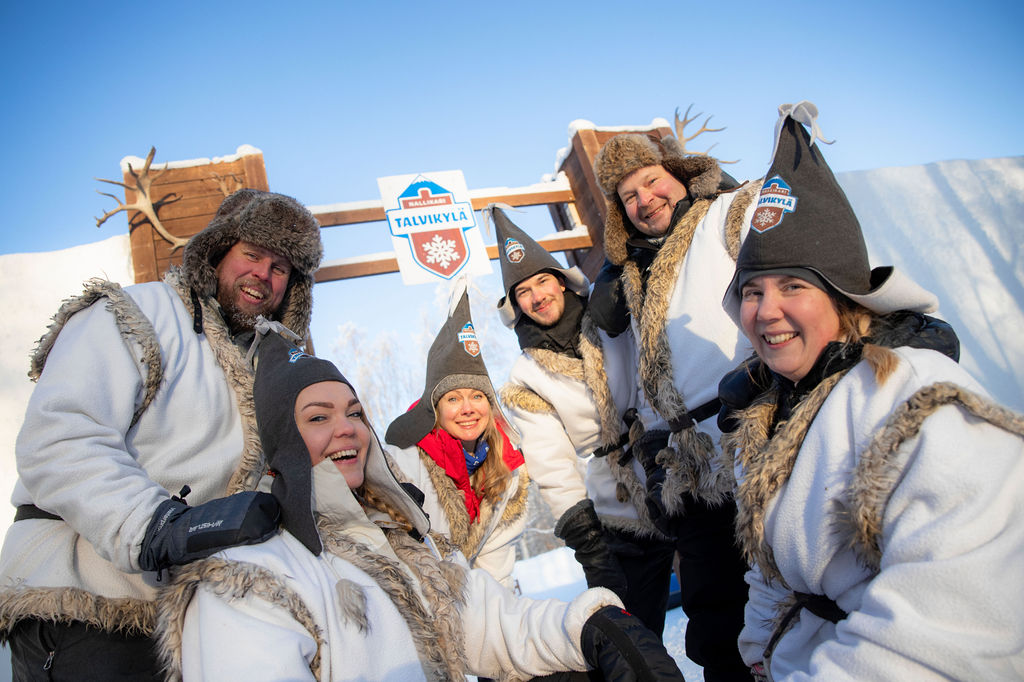 Winter Village offers visitors a range of activities and unforgettable experiences suitable for both families and adults. Come and spend time in the heart of winter activities and enjoy all the fun activities Winter Village has to offer. Winter Village is open from February to early April.
Winter Village is filled with exciting winter activities and unforgettable experiences that bring joy to visitors of all ages. Whether it's meeting reindeers, or sledging, Winter Village provides diverse winter activities.
At Winter Village, you can also indulge in various winter treats. Hot drinks, delicious doughnuts, juicy waffles, and tasty sausages will keep hunger at bay. Additionally, the carousel pavilion offers other snacks. Welcome to Winter Village, by the sea, where the joy of winter activities awaits the whole family!
 Nallikari Holiday Village
Leiritie 10 • 90510 Oulu

Reception: 
044 703 1353 • reception@nallikari.fi

Sales: 
044 703 1329 • sales@nallikari.fi